M1 Wireless Guitar System
M1 Wireless Guitar System
The Audality M1 Wireless guitar system is built with WiC® wireless technology to deliver a high fidelity wireless instrument connection for serious musicians, with sound quality that will make you forget the cable. Plug the M1 transmitter with the blue label into your instrument, and plug the longer cable from the receiver with the red label to your amplifier, pedal, or mixing board. Works with both guitar and bass.

Each system comes with a Gig Bag to keep your equipment together and safe.
The M1 Wireless Guitar System from Audality is designed specifically for professional musicians - on stage, in the studio, and beyond. On stage, the M1 handles multiple guitars simultaneously for quick changeout. Off stage, you can record and edit riffs straight into recording software.* Play longer, farther, and with more clarity when you use the M1.
Patented wic® constant connect technology 
---
Its "constant connect" WiC® technology eliminates dropouts allowing you to focus on your performance, not your gear.
Lossless Audio
---
The tone is "better than a cable". Our vast network of artist ambassadors brag that they have finally found the only wireless guitar system that made them cut the chord and join the world of wireless musicians.
Extremely flexible 
on stage
---
Audality's M1 Wireless Guitar system has pairing memory, so it will be automatically paired once you turn it on, and will stay paired even when you pair to another transmitter, allowing for "quick change" of multiple back-up guitars on stage. Simply turn off the transmitter you are using and turn on the one you are switching out, and your ready to go. No downtime moving gear between multiple guitars.
Perfect for Guitar and bass
---
The Audality M1 has been engineered to accept a wide enough range of input voltage and deliver full frequency response to the receiver to allow for use with both guitars and bass, as well as keyboards, violins, harps, cellos and more. As long as the input to the transmitter is a ¼" jack, WiC for Guitar provides flawless tone any instrument.
Record on the go
---
The Audality M1 system is also compatible with the Audality USB receiver accessory, so you can record 24-bit uncompressed HD audio wirelessly into any of the well-known music recording software packages. 
M1 Specifications:
2.4 GHz uncompressed digital audio

1-22,000 Hz frequency response

Up to 500 ft. range

High resolution 24-bit/48 kHz audio
Simple, one-touch pairing

Automatic channel selection

Long-lasting, rechargeable batteries

Standard 1/4" guitar cables
 

what's in the box
---
1- M1 Transmitter
1- M1 Receiver
1- Dual USB charger
2- USB Type C charging cables
1- short guitar cable
1- long amp cable
1- holster for the M1 Transmitter
1- Gig bag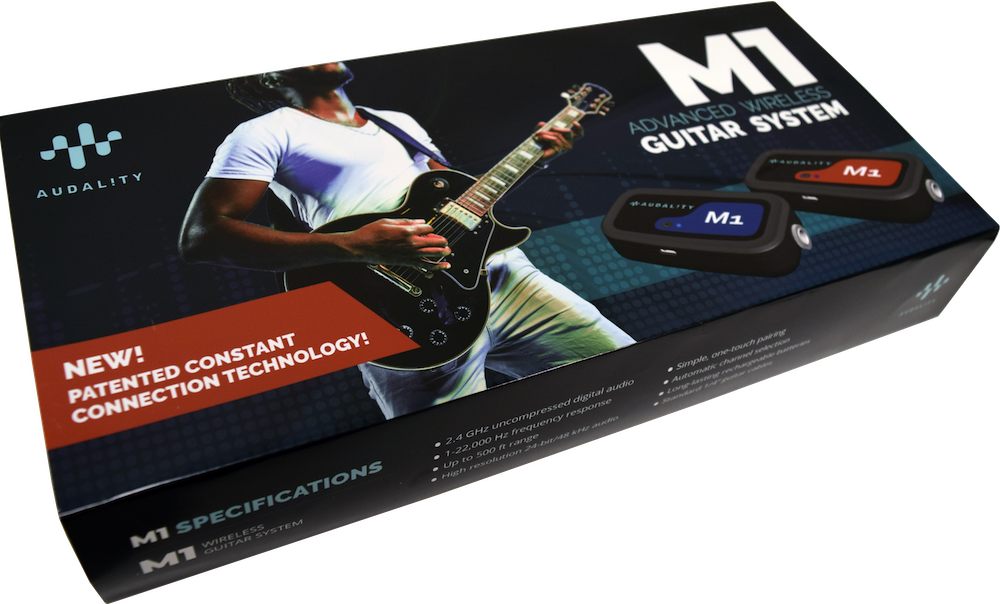 Specifications
Number of transmitters

1 transmitter (included)

or

2 transmitters

or

3 transmitters